What is a California corporation search?
How can you look up a California company?
What are the steps to do a California entity search?
We will look at how you can do a California business search, LLC lookup, search California corporations, registered agent search for service of process, limited partnership search or find out information about any business entity registered in California.
Be sure to read this entire post as we have fantastic content, links and resources for you!
We are so excited to show you the California business entity search process.
Are you ready?
Let's get started!
What is California Corporation Search
The State of California's Secretary of State maintains a business registry (BizFile California) allowing individuals and organizations to search and lookup business entities such as corporations, limited liability companies, partnerships or other types of business entities.
With the California business entity search, you can answer the following questions:
How can I do a California corporation search?
How do I check the status of my LLC in California?
How do I look up a California corporation?
How do I find out if a company is in good standing in California?
How do I do a California corporations lookup?
How do I find out who owns an LLC in California?
What is the named registered agent for a California business entity?
What type of business entity is registered in California?
What business entity was formed or incorporated in California?
What are the steps to look up a business in California?
How do I do a California business name search?
The State of California offers a convenient online tool allowing you to perform a corporation search as needed.
Here is the link to the California business entity search tool.
There are many ways people refer to the process of searching for a business entity in California, such as:
Business entity search California
Entity search California
California entity search
Secretary of State corporation search
Secretary of State business entity search
California SOS business entity search
Search business entity California
State of California business entity search
California Secretary of State business search
State of California corporation lookup
LLC lookup California
CA corporation search
CA corp search
CA entity search
CA business lookup
California business registration search
Search California business
Search corporation California
Corporation register search California
All these phrases mean the same thing and refer to the process of searching, finding or looking up information about a registered business in the State of California.
In addition to looking up business entities registered in California, you can use the company search tool to determine if a business name is available for use.
For instance, if you want to do business in California as a sole proprietor using a DBA or using a business entity, you must make sure that you do not operate under the same business name as another.
As a result, California's company search allows you to:
Verify the California entity name availability
Ensure that no other entity or individual has registered the same business name or one similar to the one that you intend to use
If the California business name is available, you can then proceed to California's online business formation services to register the business name or business entity
Keep in mind that doing a corporation search in California can give you a preliminary indication of whether a business entity name is available or not.
To reserve a business entity name, you must follow the name reservation process.
You can consult the name reservation guideline published by the State of California for more information.
What types of business entities are registered in California
A business entity located in the State of California or doing business in California must be registered with the California Secretary of State.
California business entities could be:
Corporation (profit corporation)
Doing business as or DBA (sole proprietorships and partnerships)
Partnerships
Non-profit corporation
Charitable organization
Professional services corporation
Foreign corporation
Limited liability company or LLC
Limited liability partnership or LLP
Limited liability limited partnership or LLLP
Limited partnerships or LP
As such, by using the CA business search tool or by submitting a Business Entities Records Request Form, you can look up the following in California:
Corporation search
DBA search
LLC search
LLP search
LLLP search
LP search
Trust search
Partnership search
As of this post's writing, if information about limited liability partnerships such as law firms, engineering firms, public accountants and land surveyors, general partnerships, associations, and other entity types are not in the Business Search tool.
As a result, the only option is to download and complete a Business Entities Records Request Form and request copies of the filings with the State of California.
What information is registered in California
You can access the following information, free of charge, on the California business registry:
Business entity name
Business entity number
Business registration date
Jurisdiction
Business entity type
Status of the entity (active or not)
Registered agent name and address
Registered mailing address
PDF copy of the latest entity documents filed
How to do a California business entity search
There are a few ways you can do a State of California entity search:
Search by entity name
Search by identification number
Let's look at how each of these search methods works.
Method 1: Search with entity name
To search by business name, you will need to know the exact business name or keywords or phrases used in the business name.
Step 1: California corporation lookup tool online
The first step is to access the California corporation search tool.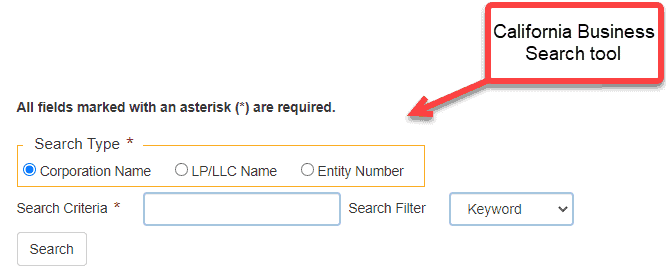 Step 2: Search for the business entity name
To search for a business entity or corporation, you should enter the actual company name or a word or phrase included in the company name.
You should also select if you are looking for a "Corporation Name" or "LP/LLC Name".
In our example, we are searching for an entity having the term "Apple" in its name and here are the results that we get:
Step 3: Look for the business entity
Once you perform a search, you will then access the "Business Search – Results" page.
The search results will provide you with a list of;
Matching company names
Entity Number
Registration Date
Status
Entity Name
Jurisdiction
Agent for Service of Process
Step 4: Select the business entity
From the Business Search Results page, select the company that you were looking for by clicking on the company name appearing with a hyperlink.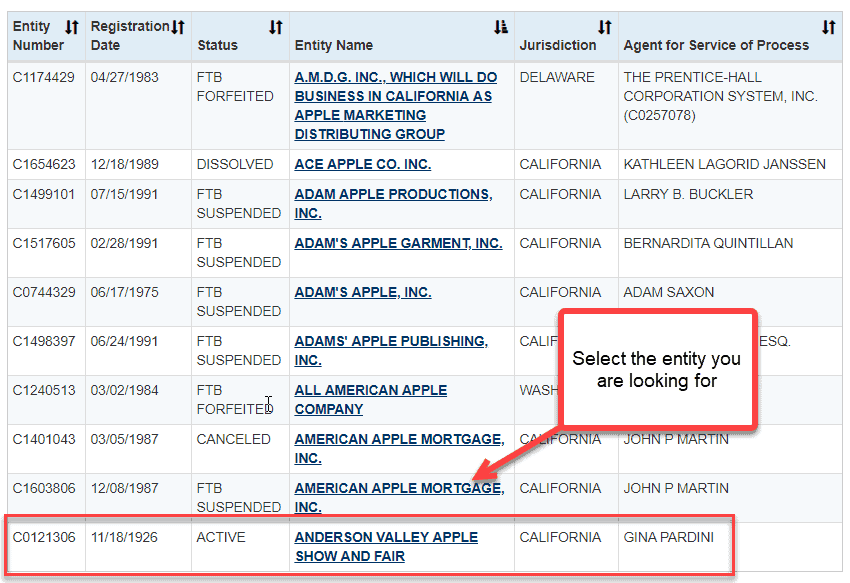 Step 5: View business entity details
When you click on the company name, you will see the "Business Search Entity Detail" page where you will have access to free information made available by the State of California.
On the entity details page, you will see the following information:
Entity name
Entity number
Entity registration date
Entity jurisdiction
Entity type
Agent for Service of Process
Entity address
Entity mailing address
Entity documents
Method 2: Search with business entity number
You can also search with a Business Entity Number.
If you have a business entity number, you can accelerate your search by targeting the specific company you are looking for.
Step 1: California corporation search
The first step is to access the California entity search tool.
Step 2: Search using business entity number
To search for a company, you can enter the business entity number.
Considering that each registered corporation or business entity will have its unique ID number when you do a business ID search, you will see only one result on the Business Search Results page.
Step 3: View business entity details
When you search using a business ID number, you will see the matching business entity on the search results page.
Click on that business entity to view the business entity details.

State of California services
The State of California provides services to individuals and companies dealing with business entities, partnerships, LLCs, corporations or any other legal entity type.
California offers:
Filing of LLC Statement of Information
File Corporation Statement of Information
California business search
Name reservations
Request for information on business entities
LLF formations
Corporation formation
Trademark registrations and modifications
UCC online
We have included useful links and resources for you to access below.
California business search service providers
There are different ways you can manage your company.
Some prefer to handle their own business entity search while others may want to hire an online service provider or attorney.
The choice comes down to what you prefer and how comfortable you manage your company's affairs.
There are law firms, lawyers and attorneys who can provide you with legal services.
They can get the job done the right way.
The downside is that they may be pricey.
When you select a lawyer or attorney, you are paying for the job's quality, the strategic advice and proper legal compliance.
You can also select a service provider that may not necessarily be a law firm but a company specialized in business name searches, company filings, company registration and incorporations.
Many business service providers provide business search services and other business services at a reasonable cost.
You can have service providers that offer any of the following services:
Business incorporation services
LLC formation services
Annual report filing services
Name search services
DBA filing services (fictitious name)
Company dissolution services
Starting a business guide
Business name search
Business consultation services
Business name reservation
LLC formation
Business incorporation
Sole proprietor registration
Partnership registration
Professional corporation registration
Nonprofit company incorporation
Tax ID Number requests
Registered agent services
Business licenses
Register for Sales and Use Tax
Trademark search services
Secretary of State filings
At the end of the day, you need to select a service provider with a good track record, who has worked with many businesses and offers quality services at an affordable price.
California links and Resources
To help you in your California business entity search process, we've compiled a short list of links to information and resources to help you quickly navigate to what you need.
California contact details
Useful links (Business entity search California)
Articles Recommended For You!
If you enjoyed this article on "California corporation search", we recommend you read the following articles that you may equally enjoy: