Are you forming a corporation, LLC, or business entity in Delaware?
How do you do a Delaware Entity Search?
Looking for an awesome step-by-step guide?
We are super excited to begin!
Let's search in the Delaware Entity Search database!
Are you ready?
Let's get started!
Step 1: Business Search Registry
In Delaware, the state offers an online database to the public allowing anyone to perform a search to locate any business entity registered in the state.
To search for a business entity, you'll need to access the Delaware Entity Search registry.
It looks like this: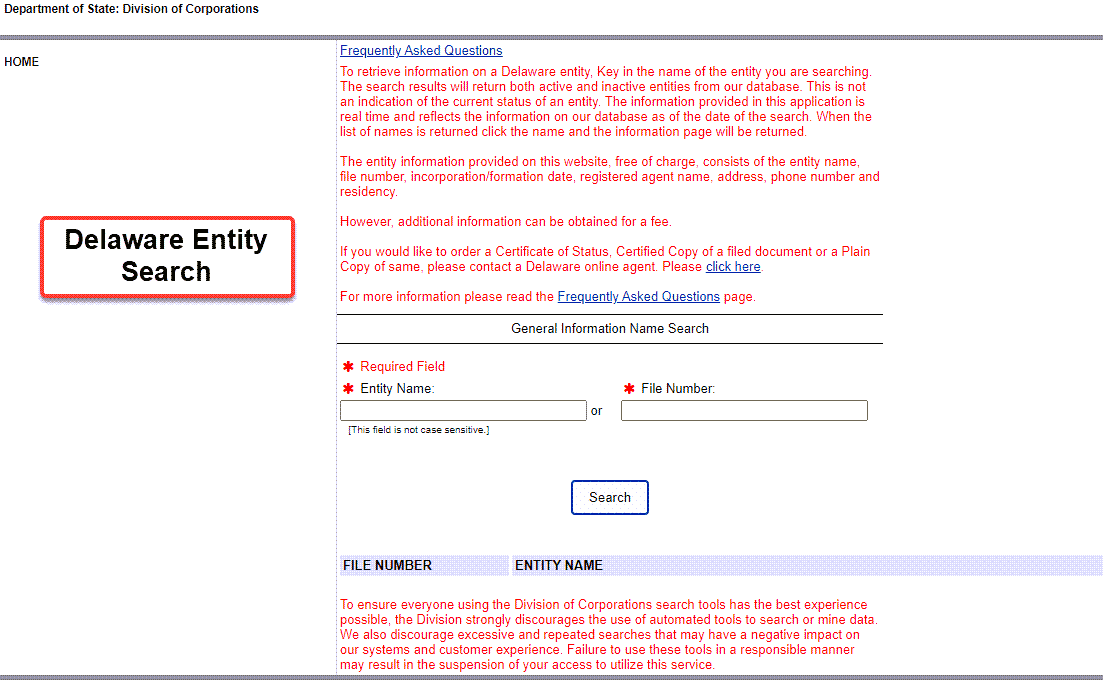 Once you access the online business database, proceed to the next step.
Step 2: Database search methods
You can search for different types of business registered with the state, such as:
Domestic Profit Corporation
Domestic Nonprofit Corporation
Foreign Corporation
Domestic Limited Liability Company
Foreign Limited Liability Company
Domestic Limited Partnership
Domestic Limited Liability Partnership
Domestic Limited Liability Limited Partnership
General Partnership
Foreign Limited Partnership
Foreign Limited Liability Partnership
Also, there are different methods that you can use to search for business entities, such as:
Search by Entity Name
Search by File Number
On the business entity search page, the State of Delaware provides us with some useful information:
The search results will retrieve both active and inactive entities from the database
The information shown in the database is in real-time
If you need more information than the information made available by the state freely, it can be obtained for a fee
If you are looking to order a Certificate of Status, certified copy of a filed document or a regular copy, you are asked to contract a Delaware online agent.
Let's look at each of these search methods one by one.
Method 1: Search by Entity Name
The search by Entity Name function is a widely used type of business entity lookup in Delaware.
All you have to do is to enter the name of the business entity you are searching for to see if there is a match in the database or not.
Once you have entered the required fields, click the button "Search".
Method 2: Search by File Number
The next possibility is to search using a File Number attributed by the State of Delaware (Department of State: Division of Corporations).
This is a unique number allowing you to target a specific file and entity.
Once you're done, you hit the "Search" button.
Step 3: Search results
Once you've performed your desired search, you will then be presented with the business entity search results.
If you did a search using a corporation, LLC, or entity name, you will see the following search results page:
The search results page presents to you the following information:
If there is a company or business having a name that matches your search query, you will see it on the search results page.
Step 4: Select entity
If you have found a business matching your query or a business entity that you would like to get further information on, you should click on the hyperlinked business entity name from the search results page.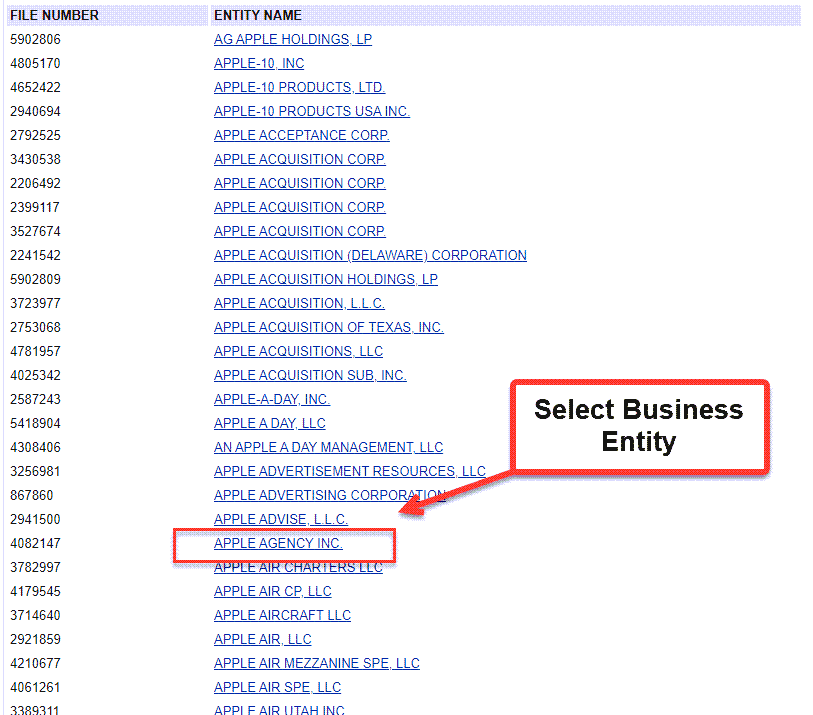 Step 5: Business entity information
To complete your business entity search in Delaware, you'll end up getting the business entity records or information made available publicly by the state.
The entity information page looks like this:
The business entity information provides some valuable information about the business entity selected.
The State of Delaware provides a disclaimer that the business entity information page should not be considered as a statement of good standing of the business entity.
Here is a quick overview:
Business Entity Details:
File Number
Entity Name
Entity Kind
Residency
Incorporation Date or Formation Date
Entity Type
State
Registered Agent Information:
Registered Agent Name
Registered Agent Address
Registered Agent County, City, State
Registered Agent Phone
Additional Options:
From the business entity information page, you are given some additional options:
You can retrieve the status of the company for a $10 fee
You can get more detailed information about the entity including current franchise tax assessment and filing history for a $20 fee
You can make the selection and click on the "Submit" button.
Takeaways
There you have it!
You have now performed a Delaware Entity Search?
Let's look at a summary of the process.
Delaware Entity Search:
Related articles