Are you forming a corporation, LLC, or business entity in Indiana?
How do you do an Indiana Secretary of State Business Search?
Looking for an awesome step-by-step guide?
We are super excited to begin!
Let's search in the Indiana Secretary of State Business Search database!
Are you ready?
Let's get started!
Step 1: Indiana Business Search Registry
In Indiana, the state offers an online database (called INBiz) to the public allowing anyone to perform a search to locate any business entity registered in the state.
To search for a business entity, you'll need to access the Indiana Secretary of State Business Search registry.
It looks like this: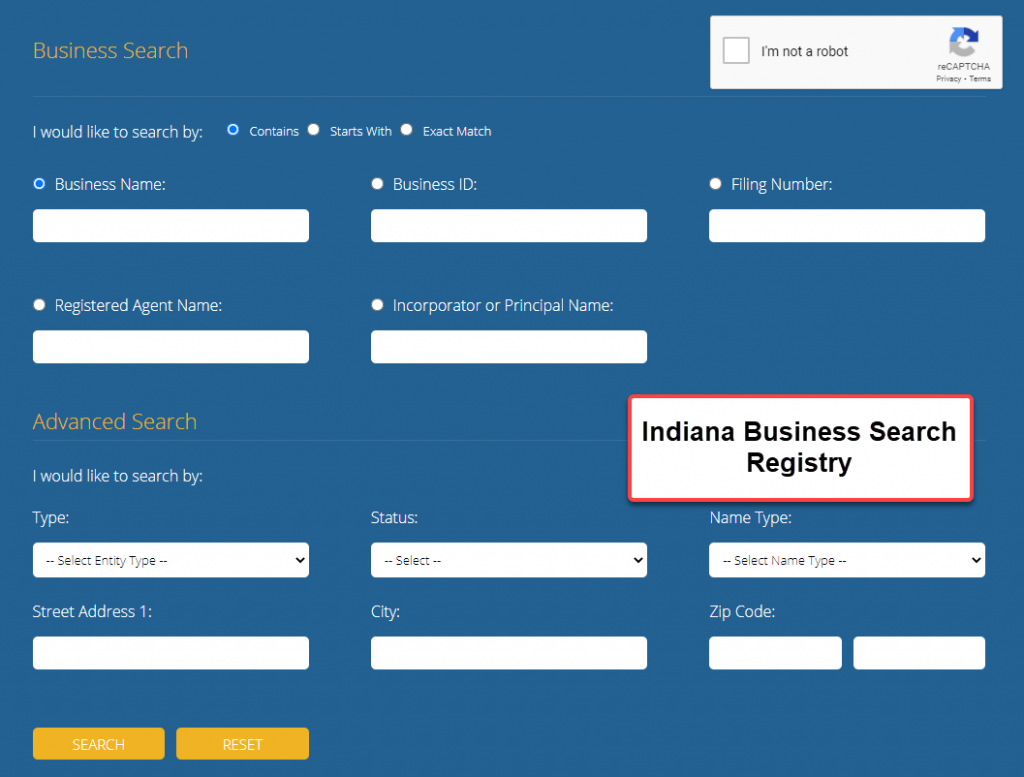 Once you access the online business database, proceed to the next step.
Step 2: Database Search Methods
You can search for different types of business registered with the state, such as:
Domestic Profit Corporation
Domestic Professional Corporation
Domestic Benefit Corporation
Domestic Public Benefit Corporation
Domestic Religious Corporation
Domestic Mutual Benefit Corporation
Foreign Profit Corporation
Foreign Non-Profit Corporation
Foreign Public Benefit Corporation
Foreign Religious Corporation
Foreign Mutual Benefit Corporation
Domestic Limited Liability Company
Foreign Limited Liability Company
Domestic Limited Partnership
Domestic Limited Liability Partnership
Foreign Limited Partnership
Foreign Limited Liability Partnership
Also, there are different methods that you can use to search for business entities, such as:
Search by Business Name
Search by Business ID
Search by Filing Number
Search by Registered Agent Name
Search by Incorporator or Principal Name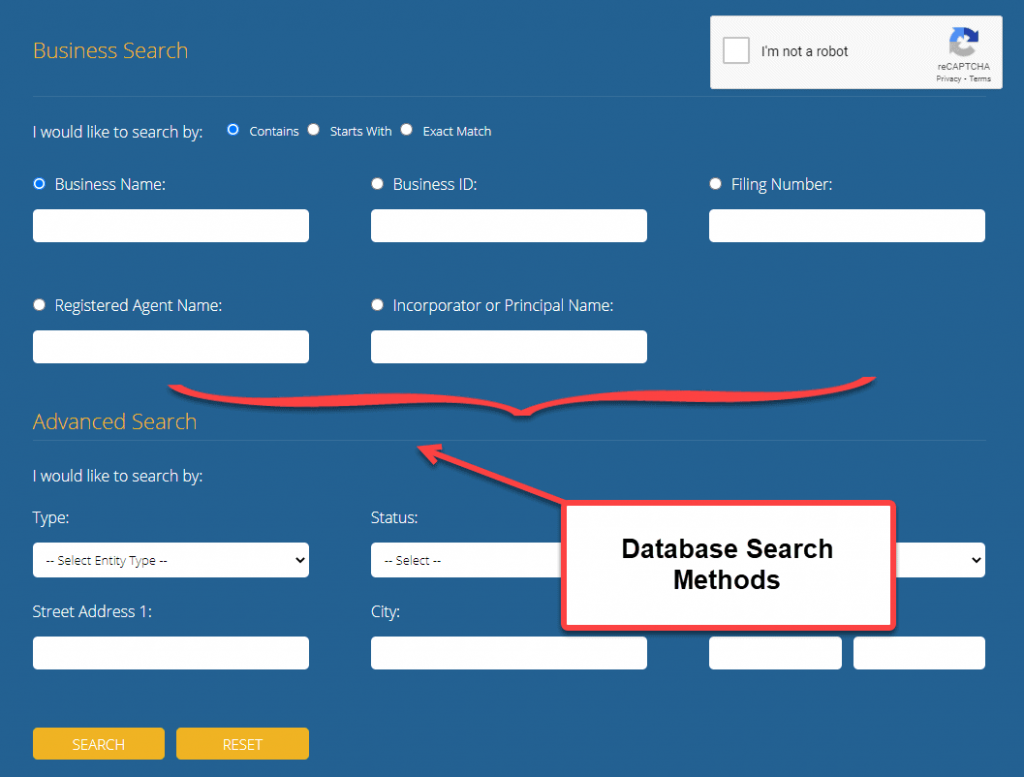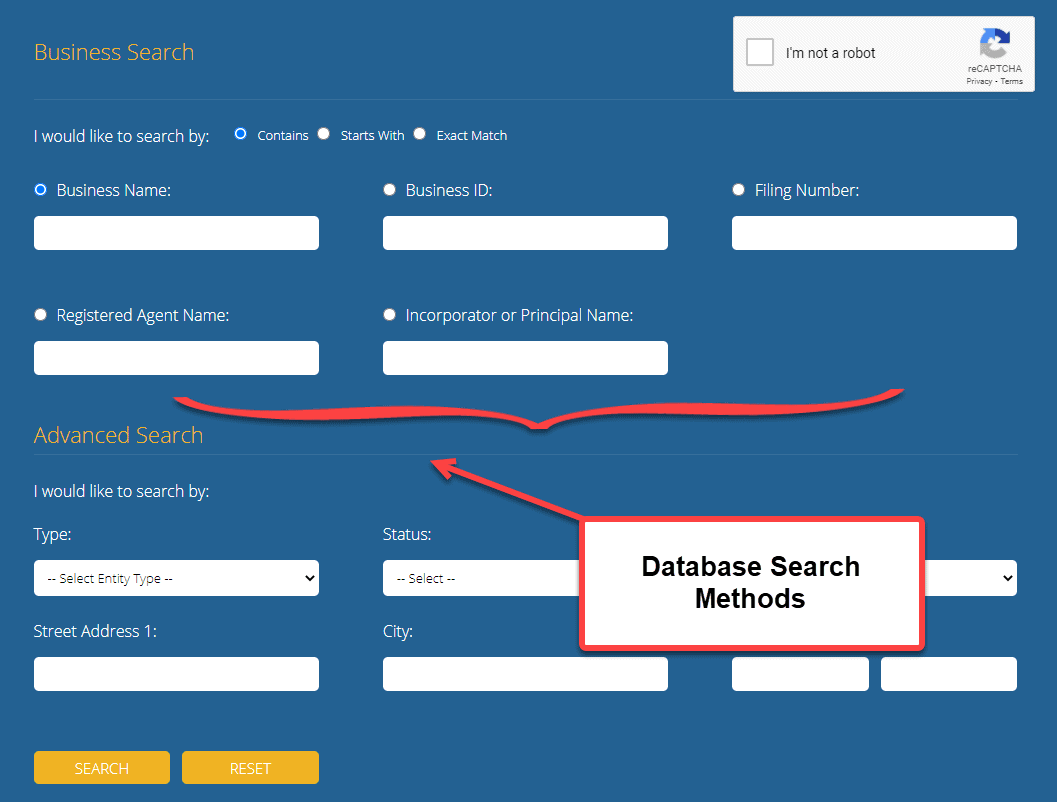 Let's look at each of these search methods one by one.
Method 1: Search by Business Name
The search by Entity Name is a widely used type of business entity lookup.
All you have to do is to enter the name of the business entity you are searching for to see if there is a match in the database or not.
As you enter a business or company name, you can select the radio button indicating that business entity "Contains", "Starts With" or is an "Exact Match" with the keyword or your search terms.
To further narrow your search, you have a section for "Advanced Search" allowing you to include additional filters.
You can use the following filters to make a more targeted business entity search:
Search by Business Type
Search by Business Status
Search by Name Type
Search by Street Address
Search by City
Search by Zip Code
Once you have entered the required fields, click the button "Search".
Method 2: Search by Business ID
The business ID represents a unique reference number or identification number assigned to the business by the Indiana Secretary of State.
If you have a unique INBiz ID number, you can use that to perform your search.
Once you're done, you hit the "Search" button.

Method 3: Search by Filing Number
Similar to the unique Business ID, a Filing Number is a unique number assigned by the State of Indiana to a specific document that has been filed with the Secretary of State.
If you have this unique File Number, you can use it to retrieve the exact entity associated with this document.

Method 4: Search by Registered Agent Name
The next option is to search for an entity using the business entity's registered agent as declared with the Indiana Secretary of State.
A registered agent can be an individual or a company who is appointed to receive service of legal process on behalf of the company.

Method 5: Search by Incorporator or Principal Name
The final business entity search option is to do a search using the name of the person or entity that had acted as the company's incorporator or the name of the entity's principal.
A principal could be a director or officer of the company.
Step 3: Business Entity Search Results Page
Once you've performed your desired search, you will then be presented with the business entity search results.
If you did a search using a corporation, LLC, partnership, or entity name, you will see the following search results page:
The search results page presents to you the following information:
Business ID
Business Name
Name Type
Entity Type
Principal Office Address
Registered Agent Address
Status
If there is a company or business having a name that matches your search query, you will see it on the search results page.
Step 4: Select entity
If you have found a business entity matching your query or a company that you would like to get further information on, you should click on the hyperlinked business entity number from the search results page.
Step 5: Business entity information
To complete your business entity search in Indiana, you'll end up getting the business entity records or information made available publicly by the state.
The entity information page looks like this:
The business entity information provides some valuable information about the business entity selected.
Here is a quick overview:
Business Details
Business Name
Entity Type
Creation Date
Principal Office Address
Jurisdiction of Formation
Business ID
Business Status
Inactive Date
Expiration Date
Business Entity Report Due Date
Years Due
Incorporators Information
Incorporator Name
Incorporator Address
Principal Information
Principal Name
Principal Address
Registered Agent Information
Registered AgentType
Registered Agent Name
Registered Agent Address
At the bottom of the entity information page, you have a few buttons allowing you do take additional steps or actions:
Get the company's filing history
Get the company's name history
Get the company's assumed name history
Request certified copies of documents
Takeaways
There you have it!
You have now performed an Indiana Secretary of State Business Search?
Let's look at a summary of the process.
Indiana Secretary of State Business Search
Related articles
How to start a business in Indiana

How to incorporate in Indiana 

How to form an Indiana LLC

How to register a trade name in Indiana 

Indiana business license 

Indiana Certificate of compliance

How to register for an EIN

Registered agent services 

Incorporation services

LLC formation services 

Document filing services 

Indiana name reservation