What does indirect signature required mean?
What is indirect signature?
What are the important elements that you must know!
Keep reading as we have gathered exactly the information that you need!
Let's learn about delivery confirmation signature options!
Are you ready?
Let's get started!
What does indirect signature required mean
The phrase "indirect signature required" refers to the nature of the signature required by delivery companies from the recipient of a shipped package.
Generally, there are four types of signature requirements (delivery confirmation options) when shipping a package:
No signature required
Direct signature required
Adult signature required
Indirect signature required
Let's look at each of these signature requirements.
No signature required
When the signature requirement is set to "no signature required" or NSR, it means the shipping company or delivery company will simply leave the package without requiring anyone's signature.
In essence, it means "just leave the package when it arrives".
Direct signature required
Direct signature required or DSR is when the addressee must sign the receipt of the goods, package or document with the delivery person in real-time.
To say direct signature required is to say "make sure I sign a receipt when the package arrives".
Adult signature required
For a courier company to deliver a package at the recipient's address based on the adult signature required delivery option or ASR, they will need the signature of a person who is at least the age of majority (not a minor) to sign the receipt of the package.
The person can prove his or her legal age by showing a government-issued ID.
Indirect signature required
So what does indirect signature mean?
When the delivery of an item is set for indirect signature required or ISR, it means that the delivery company or delivery person must get a signature from someone but not necessarily the package's named recipient.
An indirect person or an indirect signature can include:
Any person who is at the delivery address
A neighbor
A building manager
Any person that is in the neighboring address
The recipient of the package can also authorize the package's release without anyone being present as well.
Here is how FedEx presents a description of its indirect signature requirement signature option: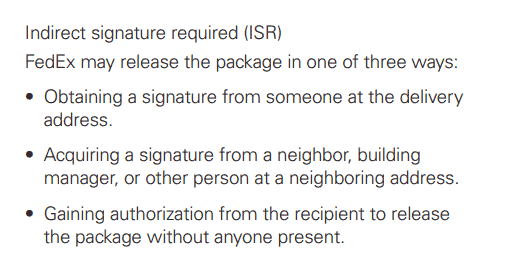 Indirect signature
What does indirect signature mean?
When an indirect signature is required, should you sign or not sign?
Indirect signature is when a delivery person gathers proof of delivery from someone other than the named recipient at the recipient's address or a neighboring address.
When delivering goods, packages, documents or any items, courier service companies (such as FedEx or others) may need to gather evidence that the package was delivered.
An indirect signature provides additional security and comfort that the package was delivered at the address mentioned for the delivery.
In real life, when the delivery guy shows up at your address and nobody is there, he can knock on a neighbor's house or find the building manager to have them sign for the package on your behalf.
Takeaways
What is indirect signature required?
What is an indirect signature?
What should you know about signature options for deliveries?
Indirect signature required:
Related legal terms and concepts