What is Its Signature?
What is the meaning of "its" in the signature line of a contract?
What are the essential elements you should know!
Keep reading as we have gathered exactly the information that you need!
Let's dig into our contract signature knowledge!
Are you ready?
Let's get started!
Its Signature Overview
What does "its" mean on a signature line?
The word "its" can be used in the signature block on a document instead of the word "title".
The objective is to ensure that the person signing on behalf of a company or someone else is clearly identified by name and role (or capacity).
A typical contract signature block looks like this: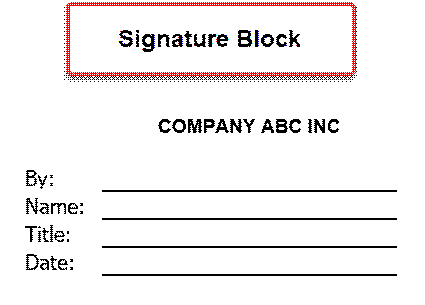 Generally, we are used to seeing the word "Title" to refer to the position of the signatory.
However, we can also use the word "Its" to refer to a person's position within a company.
The signature block would look like this: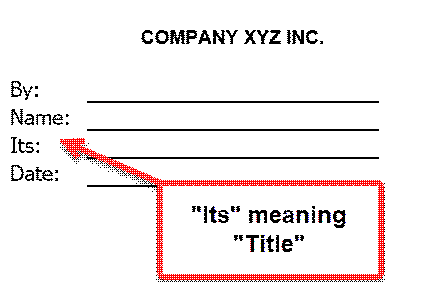 In essence, here is how someone could sign a contract:
Its President
Its CEO
Its CFO
Its Chief Operating Officer
Its Signature Line
The Its Signature Line or By and Its Signature Line refers to the place on a signature block where the person signing will put his or her position in the company or representation capacity.
A company's president will sign her name as follows:
ABC CORPORATION
By: Mary Smith
Its: President
Date: XXXX
A company's vice president will sign his name as follows:
BEST COMPANY INC
By: John Miller
Its: Vice-President
Date: XXXX
Its Signature Field
The Its Signature Field is generally an area on a form where a person will type his or her title or role when acting on behalf of someone else.
When a person signs directly on a document, we'll refer to that as the Its Signature Line or By Its Signature.
However, when a person completes an electronic document, a form or another document with predefined areas that must be completed, we'll refer to those areas as "fields".
An Its Signature Field is a pre-established area on a document or form where a person must specify his or her role or title.
Takeaways
So what is Its Signature?
What does "its" mean on a contract signature block?
Let's look at a summary of our findings.
Its Signature:
Related legal terms
E Signature
Sign Now
Signature Line
Business contract 
Lien waiver
Legal document
Lease agreement
NDA
Legal abbreviation
Related legal questions
What does it mean on a contract